China's factory activities expanded at a slower pace in April as supply and demand continue to grow following a strong rebound in March.
The official manufacturing Purchasing Managers' Index (PMI), a key gauge of manufacturing activities, came in at 51.1 in April, edging down from last month's 51.9, data from the National Bureau of Statistics (NBS) showed on Friday.
The data came below an estimate of 51.7, the median forecast of 30 economists polled by Reuters. A reading above 50 indicates expansion in activity, while a reading below reflects contraction.
The export order index and import index landed in the expansion territory for two consecutive months, reflecting the continued growth in foreign trade in the manufacturing sector, said Zhao Qinghe, a senior NBS statistician.
The export order index and import indexes were 51.4 percent and 50.6 percent, respectively, slightly lower than the data in March.
NBS data showed that the production and operation of small enterprises have improved in April as the world's second-largest economy continues to recover. The PMI of small enterprises surveyed was 50.8, 0.4 percentage points higher than last month, whereas the PMI of large and medium-sized enterprises narrowed 1.0 and 1.3 percentage points, respectively.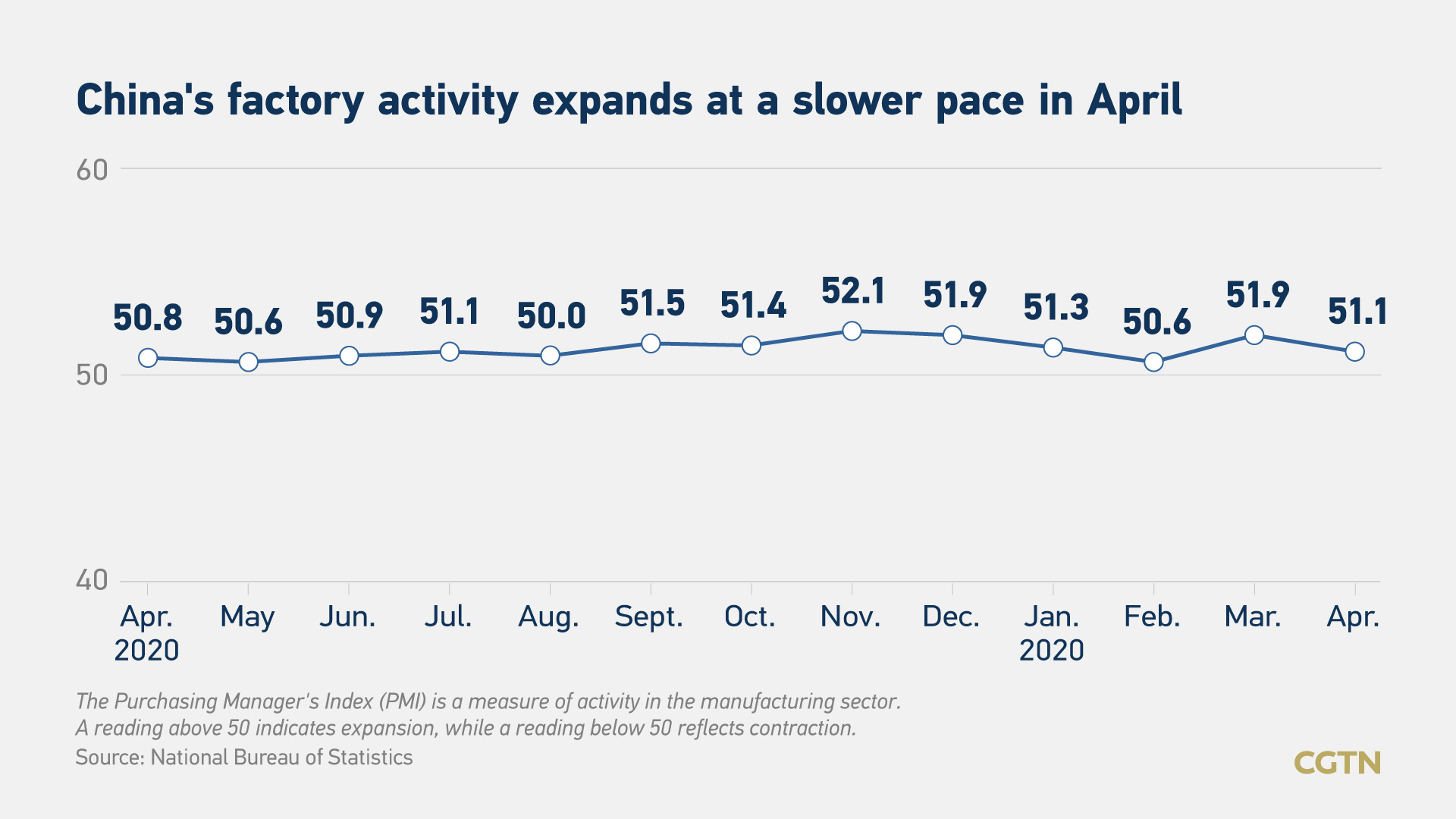 China's economic growth quickened at a record pace of 18.3 percent year on year in the first quarter, driven by stronger demand at home and abroad.
Zhao said that the procurement cycle of raw materials has become longer, which disrupted normal production activities. He added that the high-tech manufacturing supplier's delivery time index remained below 44.0 percent for three consecutive months.
"Some surveyed companies report that problems such as chip shortages, blockages in international logistics, a shortage of containers and rising shipping cost are still severe," said Zhao.
"The purchasing price index for raw materials and ex-factory price indexes both fell in April, indicating that the price increase effect brought about by the fluctuation of commodity prices is weakening, and the subsequent inflationary pressure is reduced," commented Zhang Xu, chief analyst for fixed income from Everbright Securities in a note.
However, Zhang cautioned that the difference between the two indexes remained big, which would squeeze the profits of mid-and downstream companies.
The purchasing price index for raw materials was 66.9 percent in April, and the ex-factory price indexes sat at 57.3 percent. Both came 2.5 percentage points lower than March.
The non-manufacturing sector maintained rapid expansion, but the pace slowed down from March. The non-manufacturing PMI index was 54.9, 1.4 percentage points lower than last month.
The recovery of some industries in the service sector that were severely constrained by the epidemic has been significantly accelerated, indicating that residents' willingness to consume has increased significantly, said Zhao.
He listed that the business activity index among accommodation, catering, entertainment industries came at least 1.8 percentage points higher than last month.
The official April composite PMI, which includes both manufacturing and services activity, fell to 53.8 from March's 55.3, but still reside in the expansion territory.
(CGTN)