The Chinese women's national volleyball team finished ninth at the Tokyo Olympics, a very surprising and disappointing result. Some of the players spoke to Xinhua News Agency about their experience in Tokyo while quarantining at home.
Team captain Zhu Ting said this was the first time she'd suffered setbacks like this since she joined the national team in 2013.
"I have been dealing with a wrist injury for over a year. The team placed a lot of importance on the issue," Zhu said. "We tried to get in our best form and put out our best squad for the matches. Honestly, none of us saw it coming that my injury would get worse in Tokyo, not the coach, not the medical staff, not my teammates and not even myself."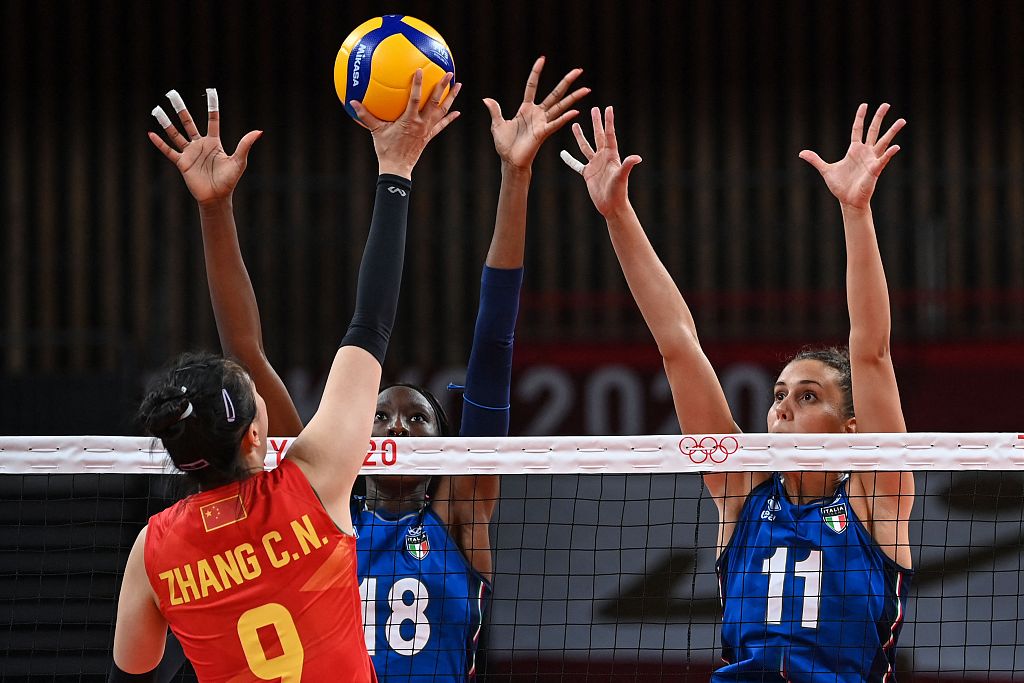 Zhang Changning of China hits the ball in the women's volleyball match against Italy at the Tokyo Olympics at Ariake Arena, July 31, 2021. /CFP
Zhang Changning said she felt responsible for the result because she failed to perform as well in the matches as she did in practice. She's convinced that she should have done more to carry the burden with Zhu, who played with an injury.
Yuan Xinyue said the opponents China met in Tokyo were much different than usual. "They were not thinking of anything else but giving everything to the matches. That's what we should learn from them. We were facing challenges not just from other teams, but also from ourselves at the Olympics. We need to balance the stress and our will to win to perform at our best," said Yuan.
China failed to advance to the knockout stage after losing the first three matches, but managed to claim victories in the last two matches, including one against Italy, one of the top teams in the world.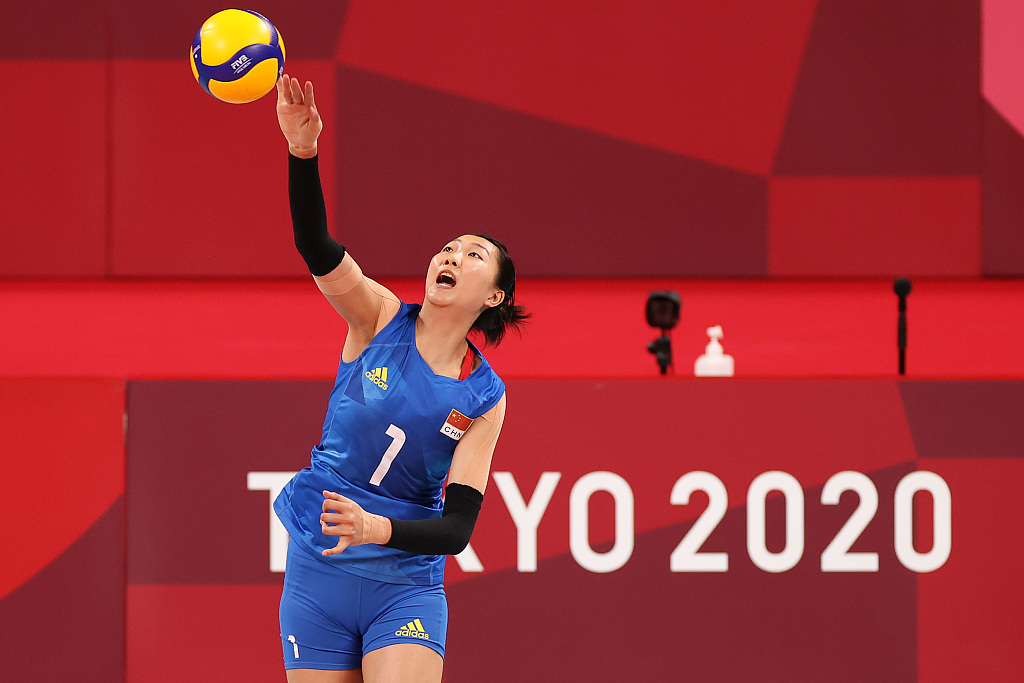 Yuan Xinyue of China serves in the women's volleyball match against Argentina at the Tokyo Olympics at Ariake Arena in Tokyo, Japan, August 2, 2021. /CFP
Zhu shared coach Lang Ping's opinion that the failure in Tokyo does not mean the team's efforts over the past year and a half are meaningless. But it reminded Zhu of the old days in 2013 when they were trying to pull themselves out of the pit.
"We must learn our lessons, admit the shortcomings, fix them and improve our performance on the court," said Zhu. "Meanwhile, we need better knowledge about our opponents before we can start over as the challenger."
Yuan was grateful for fans' tolerant and understanding attitude toward the team despite the losses. So was Ding Xia. They both believe it's time to move on and work harder in the future.
(CGTN)