Reports published by Western think tanks alleging "large-scale use of forced labor in Xinjiang" have triggered a new round of anti-China chorus, with the participation of the media, politicians and even scholars. But is it true?
A report published by the Xinjiang Development Research Center has refuted the allegation. Based on an investigation about the employment of the ethnic groups in the Xinjiang Uygur Autonomous Region, the report says that the allegations are "profoundly untrue, unreasonable and untenable."
The report says that experts and scholars visited over 70 enterprises, rural labor cooperatives and individual start-ups in and out of Xinjiang and talked to more than 800 company managers, employees, self-employed and ethnic minority employees, and here is what they found:
Why do ethnic minorities in Xinjiang want to work outside?
Even though industries in southern Xinjiang have developed rapidly, they cannot satisfy local people's needs for employment, given the fact that jobs in the northern part of Xinjiang and the inland areas provide higher wages, more comfortable living conditions and better working environment, according to the Department of Human Resources and Social Security of Xinjiang.
According to the report, most of the ethnic minority laborers are willing to work outside of the region. For instance, in Aybagh Village of Kashgar Prefecture's Gulbagh Town, 85 percent of its labor force are willing to work outside. In three other villages of Baghchi Town, Hotan Prefecture, 88 percent of the laborers expressed their wishes of working outside.
This is not unexpected.
In 2015, a young Kazakh couple, Tursun Ali and Aygulsen Jamik, chosed to work in a cotton mill in Shihezi, northern Xinjiang. They now earn nearly 10,000 yuan ($1,496) of net income a month. Three years later, they bought an apartment in Yining City, with their three-year savings – a down payment of over 300,000 yuan ($44,908) and a loan of 200,000 yuan ($29,939). This is something uncommon in their hometown.
Local residents look for jobs at a recruitment market in Hami, Xinjiang Uygur Autonomous Region, March 18, 2017. /CFP
As a result, many rural residents are seeking help with the local government, in the hope of finding more stable job opportunities.
Muhtar Helili is one of them. As a farmer from Puchakechi Township of Hotan, he liked welding and is seeking to join a weldingtrainingsessionorganized by the government so asto find a job in other provinces.
Erkin Ublikasim from the same township is among those who received help. Withtwo sons workingfor a company in Nanjing, introduced by the local government, his family has already rid itself of poverty.
What does the local government do?
The local government has been highlighting employment in their policies, and it is written in their blueprint to help local people find good jobs as well.
In the local 13th Five-Year Plan, the Ninth Regional Congress of the CPC Xinjiang Committee sets a goal of creating over 2.2 million new urban jobs and 13 million jobs for rural surplus laborers.
Besides working plans, the local government also offered protection of laborers in all aspects. Laws, regulations and measures covering employment, wages, dispatch, layoffs, and standardizing management, were legislated or issued in order to provide legal protections for local laborers. They have clarified the essential labor rights and offered protection measures for workers of all ethnic groups.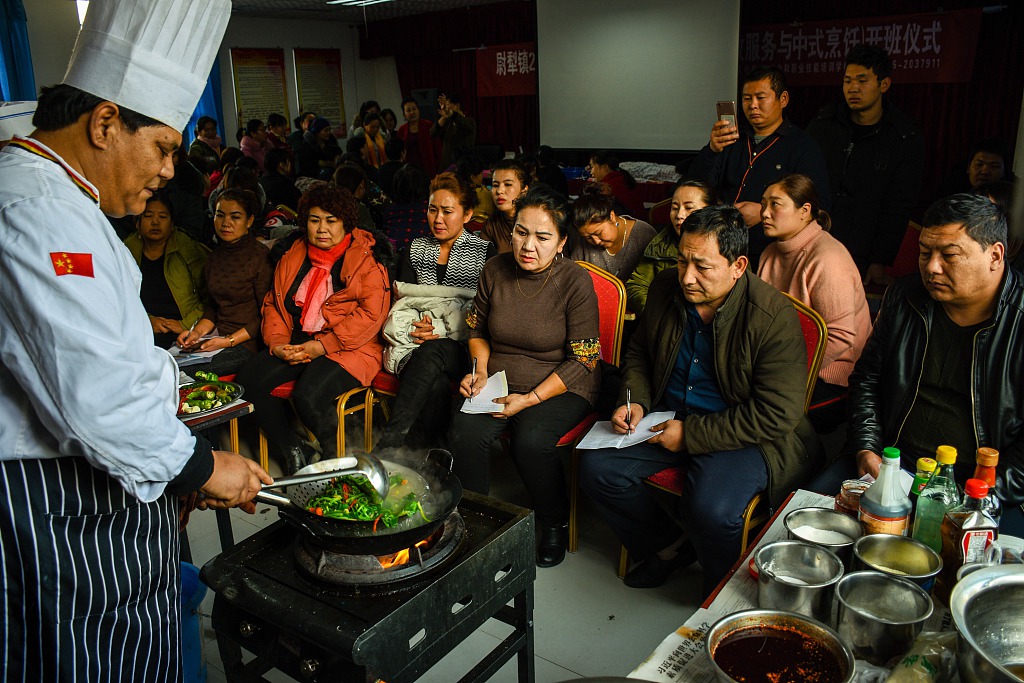 A cooking class at a training session in Yuli County, Bayingolin Mongol Autonomous Prefecture, Xinjiang. /CFP
It is the basis that all the help – including training – were provided respecting local people's intentions. The Plan on Promoting Training for Poverty Alleviation through the Employment for Extremely Poor Areas in the Four Prefectures of Southern Xinjiang (2018-2020), requires taking "every administrative village as a unit to find out the intentions of laborers from poor families seeking employment" and "to provide entrepreneurship training for those with a desire and conditions to start their own business."
Xinjiang has been working to establish its service-oriented organization for employees as well. Recruiting enterprises are required to provide information on vacant posts and the number of employment they need, while human resources and the social security department, as well as the village and the community party committee, are responsible for publishing the information so that people who need it become aware and sign up for vocational training before taking posts.
CGTN Infrographic /Source: Xinjiang Development Research Center
The local government has invested heavily in pre-job training for those in need. According to government statistics, from 2014 to 2019, Xinjiang arranged various skill work shops for 6.95 million people, of which 2.32 million were from the four prefectures of southern Xinjiang.
The region has also helped 379,400 new entrepreneurs who have offered jobs to 827,400 people. An average of 75,900 people start a businesses every year.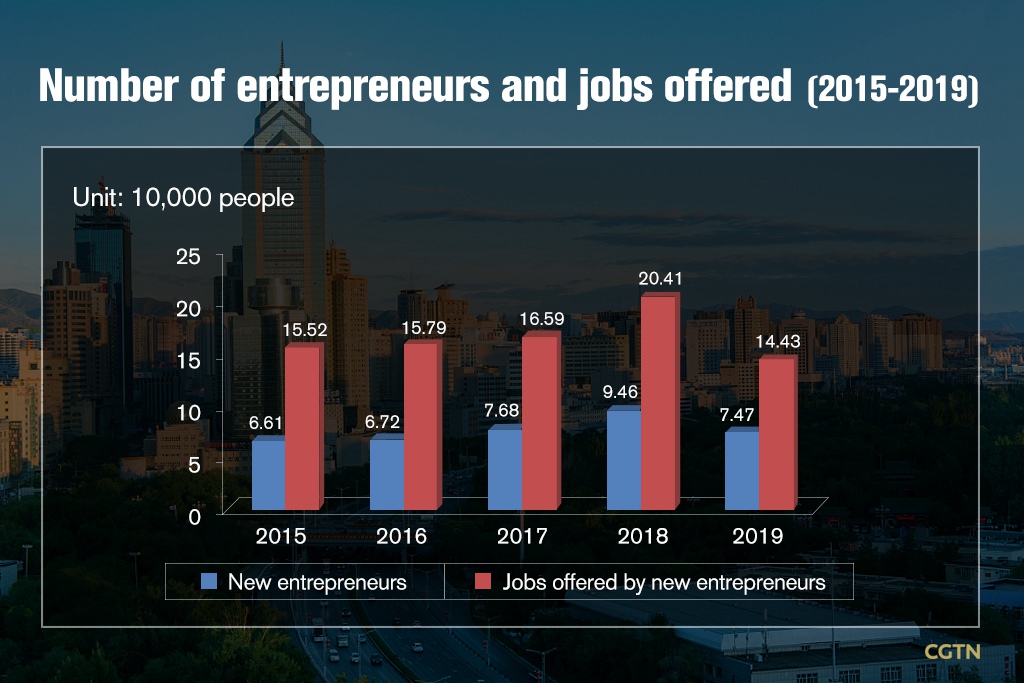 CGTN Infrographic /Source: Xinjiang Development Research Center
CGTN Infrographic /Source: Xinjiang Development Research Center
What can ethnic minorities get from those jobs?
"Decent work," put forward by the International Labor Organization (ILO) in 1999, is also the goal of the local government in Xinjiang.
Working outside, local people earn more income for their families.
According to the Xinjiang Regional Bureau of Statistics, in 2019, the minimum monthly wage in Xinjiang ranged from 1,460 yuan ($218) to 1,820 yuan ($272). However, after getting a job in Yantai City of east China's Shandong Province, Abduqeyum Abla in Muji Township now earns over 5,000 yuan a month ($748). Ablimit Matkorban and his wife now earn more than 8,000 yuan ($1,197) per month working in Guangdong Province. They are just a few examples of those who have improved the living conditions by working in eastern China.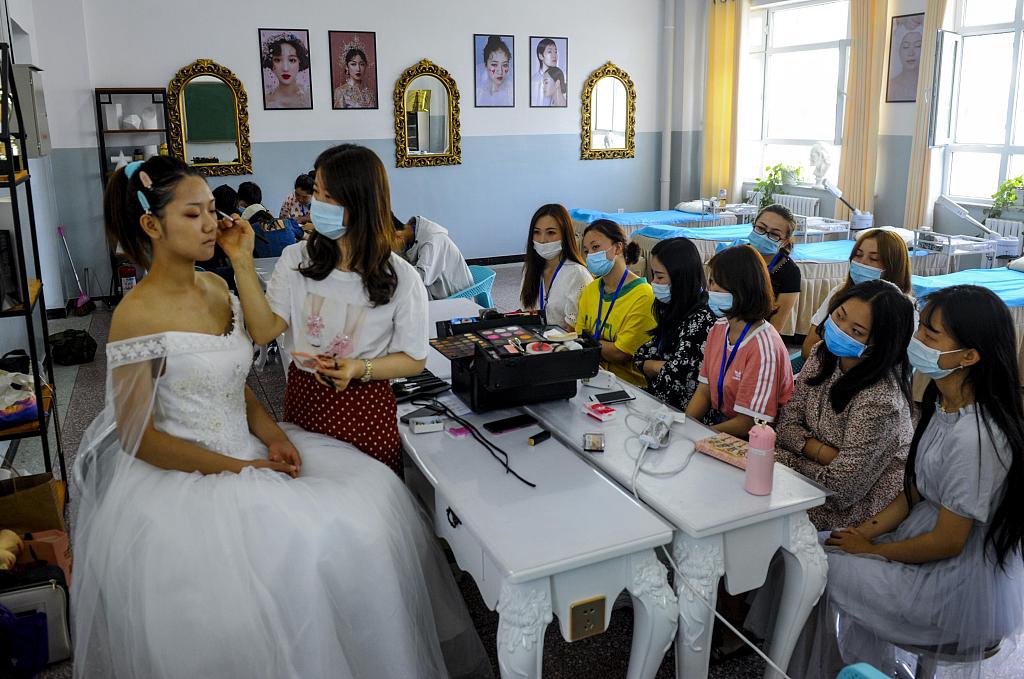 A class for make-up in Urumqi City, Xinjiang, July 9, 2020. /CFP
The ethnic minorities enjoy full freedom in their religious belief as well. Information about the number and location of local mosques in the cities and provinces they work in will be offered to them, and their religious activities will not be restricted as well.
"It's free to worship here. We can go to the mosque any time after work, and there has never been any restriction," said Ahmetjan Omar, who works for a company in Nanjing and goes to a nearby mosque to worship with his ethnic minority co-workers.
"We usually go to the mosque after work. We are free on Saturdays and Sundays, and we go there to pray early in the morning," said his co-worker Memet Yaqup.
"During Ramadan, we fast, and the boss thinks it's our right and no one has ever interfered," said Iliham Memet, who works for a company in Mianyang City, Sichuan Province.
Halal diet is guaranteed as well. Some enterprises even employ chefs from Xinjiang to ensure that halal food supply is secured.
In the kitchen of an enterprise halal canteen in Nanchang City, the investigation team saw large pieces of lamb and beef piled on the chopping board, as eight Uygur chefs were busy cutting meat and washing dishes.
"We went to the grocery market to buy lamb, beef and fresh fruits and vegetables, and we have made menus that are different every day to cook delicious meals for everyone," said Abdurehman Erkin, a chef from Kashgar's Shufu County.
For the minority women, working outside also helps to widen their vision and enhance self-awareness, instead of being bounded to the extreme thoughts or traditional ideas. Some of them even started their own businesses, such as tailor shops, dessert shops, and beauty salons.
After starting her own business of a tailor shop, Tunisa Abdullah of Moyu County, Hotan Prefecture, now has her own motto, which she has repeated to her employees: "A happy life is not given by others, but created by our own hands."
While expanding employment and introducing more job opportunities, social insurance for ethnic minority workers have also been secured.
By the end of 2019, the number of people insured for basic endowment, unemployment and work-related injuries for urban and rural workers in Xinjiang reached 18.9 million, with a coverage rate of more than 90 percent.
Migrant workers from Xinjiang to companies in inland China have also signed labor contracts in accordance with the law, with a wage guarantee rate of 100 percent, as per the report.
(CGTN)