As deadly blazes burned along the U.S.' West Coast, obliterating towns and displacing tens of thousands of people, some experts warn that bad air quality from the wildfire smoke increases the risk of people getting infected with the coronavirus.
"Multiple studies have shown a correlation between higher levels of pollution in the air and greater spread and severity of COVID-19 cases," said Dr. Brad Spellberg, chief medical officer of the Los Angeles County-USC Medical Center, to CNN on Saturday.
He explained that lung tissue exposure to pollution may increase susceptibility to viral infections.
Smoke from wildfires can irritate the lungs and cause inflammation, which affects the immune system and makes them more susceptible to infection, said Dr. Rekha Murthy, an infectious disease specialist and vice president of medical affairs at Cedars-Sinai Hospital in Los Angeles.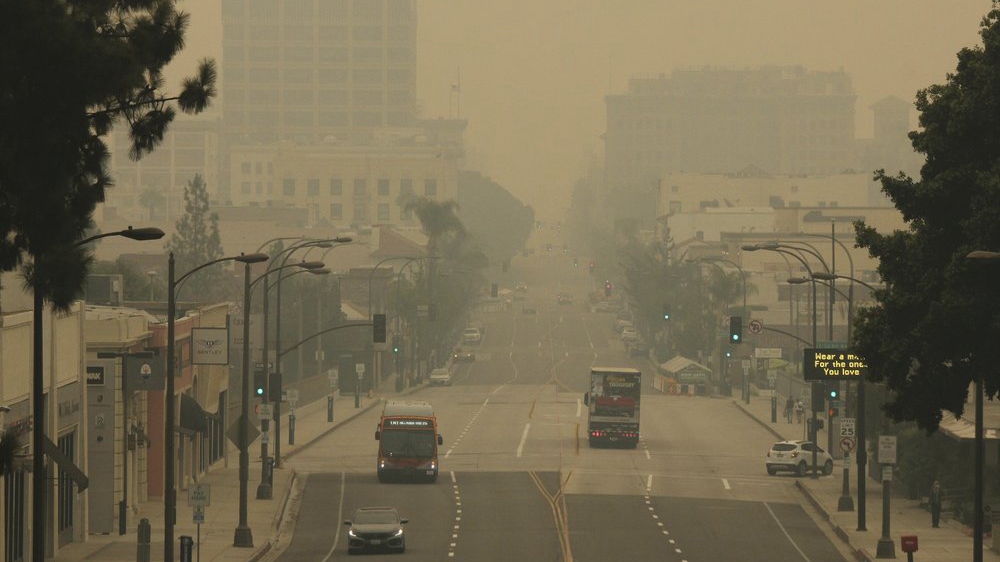 Smoke from wildfires fills the sky over Pasadena, Califprnia, in this view looking east down Colorado Boulevard. /AP
The Pacific Northwest as a whole has borne the brunt of an incendiary onslaught, darkening the sky with smoke and ash that has beset northern California, Oregon and Washington with some of the world's worst air-quality levels.
With air contamination levels at historic highs, people stuffed towels under door jambs to keep smoke out. Some even wore N95 masks in their own homes.
Some communities resembled the bombed-out cities of Europe after World War II, with buildings reduced to charred rubble piled atop blackened earth. Residents either managed to flee as the flames closed in, or perished.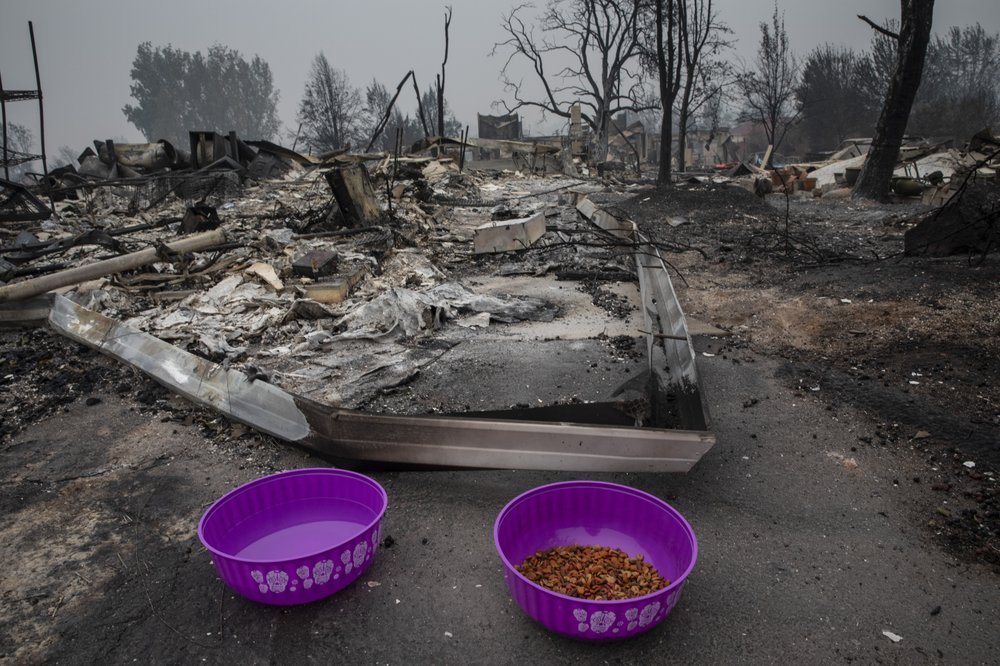 Cat food and water are seen as residents try to find lost pets who went missing during wildfires in Talent, Oregon. /AP
In California, a total of 28 active major fires have burned 4,375 square miles, and 16,000 firefighters are trying to suppress the flames, Cal Fire Assistant Deputy Director Daniel Berlant said. Large wildfires continued to burn in northeastern Washington state too.
The U.S. Centers for Disease Control and Prevention (CDC) has also warned that this air pollution can from the wildfire smoke increase the risk of COVID-19 during the ongoing COVID-19 pandemic.
According to a tally by Johns Hopkins University, U.S. has so far registered more than 6.4 million infections and over 193,000 deaths – both the highest in the world.
Moreover, about 100 college communities in the U.S. have seen a high rate of infection in recent weeks as students have returned for the fall semester, making the campuses and the surrounding community a new front of the country's COVID-19 pandemic, The New York Times reported this month.
(CGTN)