By APD writer Melo M. Acuña
MANILA, Jan. 14, (APD)--Officials of the Philippine Coast Guard led by its Commandant Admiral Joel Garcia welcomed their Chinese counterparts in fitting ceremonies at the PCG Headquarters at the Port of Manila earlier today.
Admiral Garcia received China Coast Guard Commandant Wang Zhongcai and his staff and proceeded to the headquarters. They did not give statements to the media.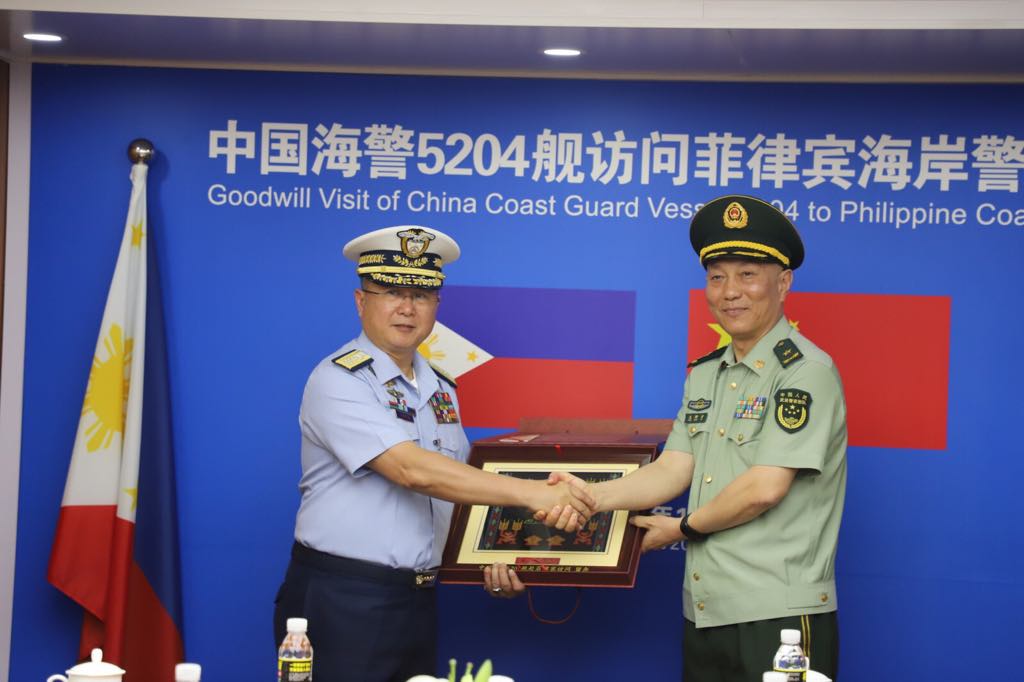 China Coast Guard Director General Major General Wang Zhongcai (CCG) (right) formally welcome the Philippine Coast Guard (PCG) Commandant Admiral Joel Garcia to CCG Vessel 5204 in a cross-deck visit this morning, January 14,2020. (PCG Photo)
The visit is seen to begin what has been described as historic discussions and exercises believed to show cooperation between the two entities.
Admiral Garcia, in a statement released to the media before the welcome ceremonies, said this is the first time in the country's history that the Philippine Coast Guard and China Coast Guard "formally sit down and talk to enhance relationship and establish smooth coordination." He added this is in relation to maritime search and rescue, maritime law enforcement, maritime safety, marine environmental protection and maritime security.
The Philippine Coast Guard commandant said the maritime incidents involving Filipinos and Chinese nationals have been scheduled for discussion Tuesday afternoon.
The China Coast Guard will be in Manila until Friday. From tomorrow, the two coast guard commands will hold joint exercises.
(ASIA PACIFIC DAILY)
Hot Recommended
Chengdu boosts innovation efforts in new economy

APD | Major US weakness in the "duel" with China

WHO advance team concludes China groundwork mission to identify COVID-19 origins

China to punish Luckin Coffee for financial fraud

Foxconn, Samsung apply for India's smartphone scheme

Homicides surge in 50 largest cities in U.S.: report