Author: Prof. Engr. Zamir Ahmed Awan, Sinologist (ex-Diplomat), Editor, Analyst, Non-Resident Fellow of CCG (Center for China and Globalization), National University of Sciences and Technology (NUST), Islamabad, Pakistan. (E-mail: awanzamir@yahoo.com).
Pakistan and China have opened the Khunjerab pass for trade and travel activities recently. The highest pass on the earth, constructed in the 1960s-1970s, and known as 8th wounder of the world, in Winter covered with snow, only opened from April to September. According to both governments ' protocols, the border point between the two neighboring countries was closed in October 2019 and was planned to be opened in April 2020. But due to COVID-19, the opening of the border was postponed till recently. However, the border was opened for a few weeks temporarily in July last year to facilitate the release of stranded containers and again in September to shift medical material gifted by the Chinese government to GB to deal with Covid-19.
Khunjrab Pass is a significant land trade route between China and Pakistan, which also connects Afghanistan and Iran too. Under CPEC projects, most of the raw material and Machinery was transported through the Khunjrab Pass. In addition to the trade of goods, it was also a significant entry point for passengers traveling between the two countries.
The prolonged closure of Khunjrab Pass has affected the trade and travel of passengers due to the Pandemic. The entrepreneurs of both countries welcomed the re-opening of it and hoped the trade and travel might get a boost in the coming days. It is desired that both Governments may take extraordinary measures to facilitate the trade and travel through this pass and facilitate visa issuance mutually. The travelers may be asked for strict COVID-19 SOPs, but the visa regime may be relaxed, and customs and immigration facilitation may be made more friendly. Especially for people on both sides of the border should be facilitated for visa at spot, because the bordering areas are far awy from Beijing and Islamabd, and may not be convenient for locals to travel to Capitals for getting visa.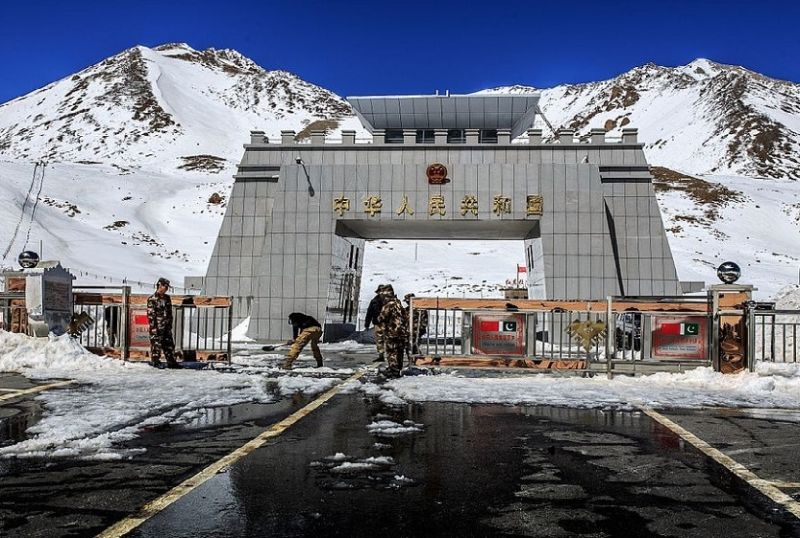 Xinjiang is a pivotal Province of China bordering the several Central Asian States. Beijing has invested heavily in the development of Infrastructure and facilitated economic activities. Today, Xinjiang is highly developed, rich in natural resources, fully industrialized, modern banking & financial system, and ready for trade. In fact, the success of BRI is dependant on Xinjiang, as few economic corridors are passing through Xinjiang. The potential of Xinjiang for trade and economic activities is enormous and can contribute to the developmentand prosperity of all regional countries.
Pakistan can benefit from the stability and development of Xinjiang, which can also benefit from China-Pakistan economic and trade cooperation and the construction of the China-Pakistan Economic Corridor (CPEC), so this is a win-win and mutually beneficial outcome, said Yao Jing, Director of the Foreign Affairs Office the Xinjiang Uygur Autonomous Region People's Government. Xinjiang should be promoted to become a link between Pakistan and other countries in the future, said Yao, former Chinese Ambassador to Pakistan.
It is worth mentioning that Directo Yao Jing, who has served in Afghanistan and Pakistan as Ambassador of China, has also served as deputy head of mission in India too. He is very well aware of affairs in the region and can be ranked as an expert on the strategic importance of Xinjiang in the context of its bordering countries. His recommendations carry high significance and full of wisdom.
"Central Asia's economy and development are highly complementary, and China has provided Pakistan a good platform to expand its foreign economic and trade ties and enhance its foreign relations," he told media. In order to speed up the construction of the Belt and Road Core Area, the Party Committee and the government of Xinjiang Uygur Autonomous Region have put forward a series of policy proposals, but the construction of the China-Pakistan economic corridor in a more critical position, and continuously promoted economic and trade exchanges with Pakistan to a broader space.
"Xinjiang is bordered by Pakistan, both historically and now, culturally, economically, and trade-ally," he said. He said, in the process of building the CPEC, almost all the people, materials, and equipment are transported to Pakistan through Xinjiang, and many large enterprises directly build production bases in Xinjiang as the starting point of the corridor. Xinjiang's important position is very prominent. Xinjiang should make use of the advantages along the border to accelerate the promotion of high-quality development under the premise of ensuring epidemic prevention.
Pakistan Entrepreneurs are encouraged to avail this opportunity and strengthen trade relations. Under the revised FTA, the trade opportunities has been enhanced . Further more.Pakistani enterprenuers can also reach Central Asian markets conveniently. It is expected that the border will remain open till Winter. There are also efforts to upgrade the pass to make it all-weather (throughout the year) functional and remain opened.
(ASIA PACIFIC DAILY)