September 16 marked the end of an era in Japan as power changed hands from long-serving Prime Minister Shinzo Abe to 71-year-old politician Yoshihide Suga. The latter was elected prime minister through popular voting in the parliament, following Abe's official resignation a day ago on health concerns.
Suga, a farmer's son who once worked in a cardboard factory, is expected to continue with Abe's legacy. The transition to a new administration was predictable, efficient and seamless, with Suga retaining many of Abe's cabinet in his new government. The new prime minister made a bigger political statement by appointing his predecessor's younger brother, Nobuo Kishi, as defense minister.
Significantly, both the finance and foreign ministers have retained their portfolios in the new cabinet. In typical Japanese fashion, the entire exercise was a mark of tradition, stability and continuity, as opposed to a radical political shift to uncharted waters. Japan's strong economy and its relations with the U.S. are some of the pillars that have built the country into one of the top "Asian tigers."
Rising from the ashes of World War II, the country is today the third largest economy (in the rank of countries, not organizations) after the U.S. and China. Japan is still under a monarchy, now led by Emperor Naruhito after his father Akihito abdicated the throne in 2019.
Amid this formidable outlook, Japan is still playing it safe, either fearful or unwilling to throw its hat in the ring of world politics, which currently has the U.S. and China as the two major forces. For historical reasons, the country still seems shy of playing a prominent role in balancing the current global power set up.
Understandably, Japan is torn between two forces driving the world today – unilateralism, as espoused by the U.S. led by Donald Trump, and multilateralism, as championed by China.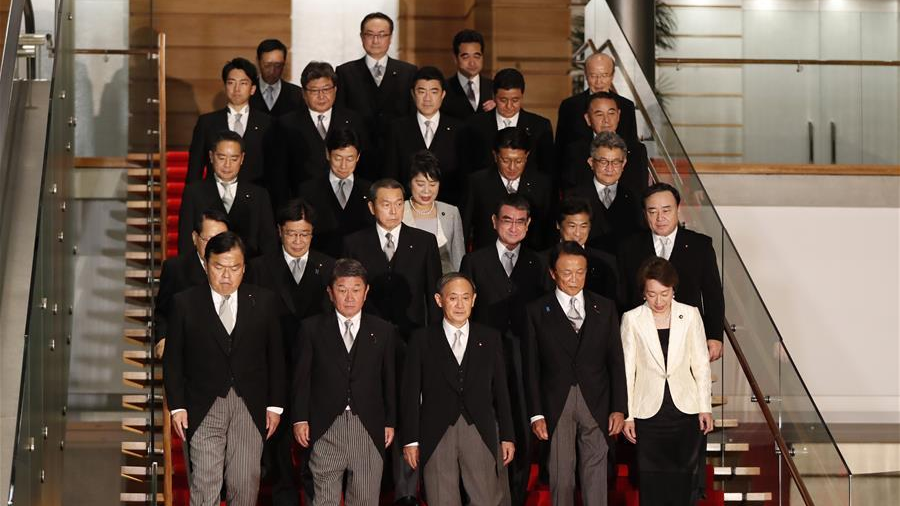 Japan's new Prime Minister Yoshihide Suga (C, front) leads his cabinet ministers as they prepare for a photo session at prime minister's official residence in Tokyo, Japan, September 16, 2020. /Xinhua
In the first instance, Japan has apparently never overcome the horror of its bombing by the U.S. and subsequent occupation by the latter, and would be unable to stand up to Trump's shenanigans. In fact, Abe was Trump's most important ally in Asia, which puts Suga at odds if Japan wants to be in countering against the United States.
Conversely, Japan could still be feeling guilty for its part in World War II against China. This has been a longstanding blot on Sino-Japanese relations.
But Japan must now count its losses and move on. There will be compromises and reparations to be made where need arises, but the change of guard in Tokyo must count for something in helping to resolve mounting global crises, particularly with the U.S. absconding several of its responsibilities.
Japan should not find it difficult to step up its global presence as it already enjoys significant clout, as it has served 11 terms as a non-permanent member of the UN Security Council, more than any other UN member state.
On this role, the country's foreign ministry notes that "Japan has been putting even greater effort into achieving the diplomatic goals that cannot be achieved by one country alone by further strengthening cooperation through the UN, including responding to global issues."
Japan is also a member of G20, which account for most of the world's wealth, population and land mass. Japan hosted its first ever G20 summit in 2019 in Osaka under the overarching theme of ensuring global sustainable development. It will also host the Olympics in 2021.
As the then holder of the G20 presidency, Japan showed willingness to protect the rules-based free trade under the World Trade Organization (WTO). Notwithstanding the outcome of on-going bilateral trade negotiations between the U.S. and China at the time, Japan announced it would "initiate trilateral dialogue together with the U.S. and the EU, with the aim of reforming outdated aspects of the WTO."
Japan is literally a member of tens of global organizations, including regional bodies like the African Development Bank, where it can exert its influence. Although it has what it takes to become an influential player, it must overcome both its historical burden and fear of contradicting its top ally in critical global affairs.
Indeed, Japan could be the missing piece in the puzzle in entrenching multilateralism.
Together with other leading countries in both Asia and Europe, the country can help in setting the agenda of a more sensitive world where the interests of weaker countries and regions are not overridden by those with the might. It is a fresh voice that is begging to be heard.
(CGTN)