Tickets for actress Zhang Huoding's latest performance in the classic Peking Opera Farewell My Concubine sold out fast, as they have done for all her shows in China.
The performance will be staged at the Chang'an Grand Theatre in Beijing on Friday, in response to demand.
Tickets, which cost from 100 yuan to 1,080 yuan ($14 to $155) and went on sale on Jan 5, were all snapped up by noon. According to the online sales platform Damai, each buyer could purchase only one ticket with their ID card.
On May 25, when the show was staged at the 19th Meet in Beijing Arts Festival, tickets also sold out within a few hours, according to Mu Wen from the China Arts and Entertainment Group, which organizes the annual event-one of the largest arts festivals in the capital.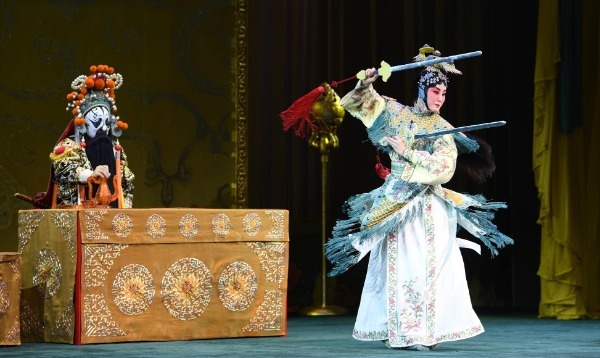 It took Zhang Huoding a year to master the sword dancing scene in Farewell My Concubine.
An audience of more than 1,000 watched the show at the Chang'an Grand Theatre, with many people leaving messages online asking for Zhang to appear in more performances.
Netizen "Doudou", a 24-year-old Shanghai native who watched Zhang perform in Farewell My Concubine on Oct 26 at the Shanghai Grand Theatre, said, "I am intrigued by her craft as a Peking Opera actress, which is just as I imagined it to be."
Veteran actor Zheng Rong, 95, who watched the Beijing show on May 25 from his wheelchair, said: "It's great to watch her perform-I cried. Thankfully, Zhang and her team are keeping Peking Opera alive."
Fu Jin, a professor at the National Academy of Chinese Theater Arts, said: "Zhang Huoding is phenomenal. It's hard to believe that a Peking Opera actress can be as popular as a pop star. Many of her fans are young people.
"With such traditional genres facing challenges from contemporary forms of entertainment, it's valuable to have such a great actress, who tries her best to let more people know about this genre."
Known as jingju in Chinese, Peking Opera is more than 200 years old. It combines singing, dancing, martial arts and acrobatics. UNESCO declared it an intangible cultural heritage in 2010.
(Cover: Zhang Huoding had the idea of adapting Farewell My Concubine more than 10 years ago.)
(CHINA.ORG.CN)