A delivery driver shows his health QR code to security at a checkpoint to the 798 art district following the COVID-19 outbreak, in Beijing, China, April 29, 2020. /Reuters
Mobile internet-based technology has played an irreplaceable role in helping China's fight against the COVID-19 epidemic, but many elderly in China are facing a considerable dilemma as they navigate the unfamiliar territory of QR codes, mobile payments and digitized information.
Although China has almost controlled the disease outbreak, people still need to present their health QR codes that record their recent whereabouts. Green health QR codes are mandatory for entering public places, using public transportation and traveling.
The health QR code system – based on big data – has been proved a highly useful tool for containing the contagion. However, accessing the code can be a problem for many elderly people who have poor digital skills or no internet access, as they don't use smart phones or dont even own a mobile phone.
Recently, video footage of a senior citizen who was unable to show his health code and argued with the staff at a metro station in Dalian in northeast China's Liaoning Province has triggered widespread debate on social networking sites. Following this, the Dalian Metro reflected on the inadequate services for such special groups. The old man also apologized for his temper when stopped at the subway station's gate.
According to the Statistical Report on Internet Development in China, China has 904 million internet users by March 2020, with a 64.5 percent penetration rate. However, the proportion of internet users aged 60 and above accounts only 6.7 percent.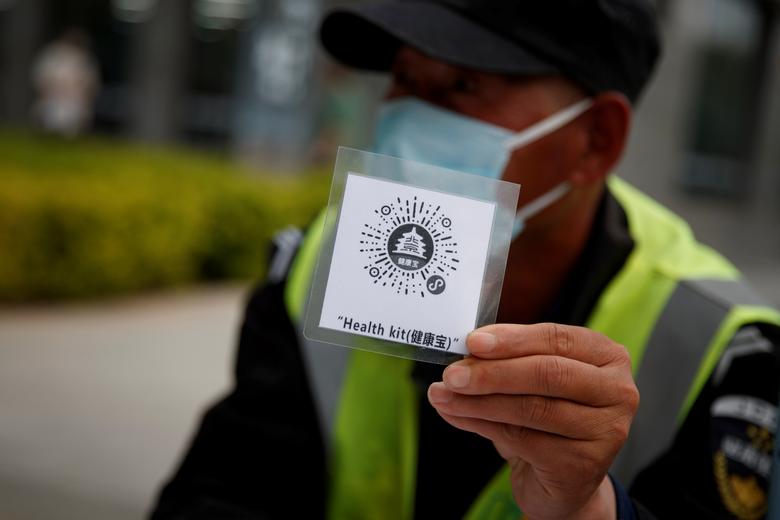 A security guard holds up a QR code for a health app at a checkpoint to the 798 art district following the COVID-19 outbreak, in Beijing, China, April 29, 2020. /Reuters
Following similar incidents related to the elderly over the use of health QR codes, some local governments have introduced complementary measures such as printed health cartificates.
In most cities in China, QR codes have always been posted at the entrances to residential communities, buildings and other public venues. Those who don't have smartphones, especially the elderly and children, can pass with valid printed health certificates as in Hangzhou.
The governments of southwestern Chongqing and Heilongjiang Province in the northeast allow people to register health codes on behalf of their elderly parents. In Shanghai, those who do not have a smartphone can register with their communities, which will issue a certificate akin to a health identity valid for 14 days, Xinhua reported.
"The residents can get in and out with a green QR code, but most of the elderly people in the community do not use smartphones," said Li Li, deputy secretary of a community in Jianghan District, Wuhan City.
They often have special needs, such as going to the bank to withdraw money, buy medicine and see a doctor. So the community made a temporary access certificate for them, she added.
According to the National Bureau of Statistics, by the end of 2019, the total number of Chinese seniors aged 60 and above reached 250 million, and it is expected to surpass 300 million in 2025.
Although the use of paper-based health codes has solved immediate worries, how will old people with poor internet literacy fare in the digital era? Epidemic prevention should endeavor to ensure that no one is left behind or suffer undue inconvenience because of technological developments.
(CGTN)